Introduction of free music creation software
Today we will discuss about the top five free music creation software reviews. Especially, The beginners should know all about the five for a good start to create their unique music. These all Free Music Creation Software will perfectly helps you to learn the creation. In the list of Top Five programs we want to quickly share with you all Five Amazing Programs that are awesome tools for working with music and audio on your computer.
These all Free Music Creation software are the Audacity , Linux Multimedia Studio, Ardour, Mixxx and Spek. All these Programs are completely free to download and these are also used for both personal and commercial use. They are also an all open source softwares. If you want to download them and try to out for yourself and we also provide you a downloading link directly. So now lets discuss all the Five exciting Free Music Creation Software one by one:-
1. AUDACITY SOFTWARE – Finest music creation software
In the list of Five Glorious Music Creation Software , The number one is AUDACITY SOFTWARE. Audacity is an audio recording program. When you record your voice , so a blue part in the wave forms shows that this is a voice recording. We can apply many different types of effect to our or to any audio file. For example after you record your audio , so select the portion of the recording. Select a dramatic effect reverse the whole selection and you will fill oh wow! its a magical fun thing.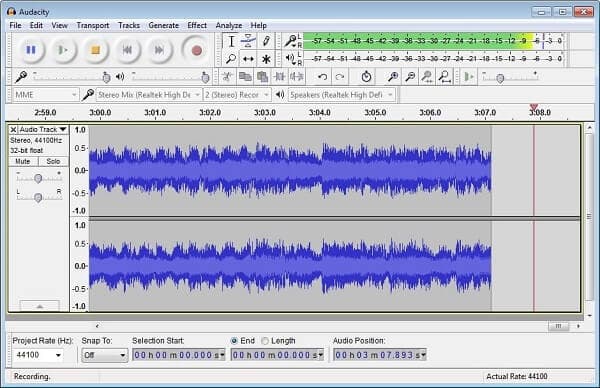 You can use the Audacity software for a lot of things and its very pretty easy to use. Audacity also has a simple interface. You can use it for example , you can take the lyrics off of a song so you have a just a kareoke type version. You can take an audio recording and change the Speed , the Pitch , the Tempo and also you can also Amplify and you will get more different magical effects when you will use it. It is great for recording and capturing audios. You can also get plugins to export the recordings in mp3. Audacity works on Windows , Mac and Linux.
CLICK HERE TO DOWNLOAD THIS: www.audacity.org
2. LINUX MULTIMEDIA STUDIO SOFTWARE
The LINUX MULTIMEDIA STUDIO is an another Magnificent Music Creation Software which is free to use in your computer. It is a program which is very similar to fruity loops studio. So you can create some pretty cool music with it. You can use very pretty samples for the music creation including Drums , Drumsyth , Many different types of effects , Intrumental effects , different beats and much more. You can also create a synthesized music. By the use of these tools your can make your own unique beat. You can make the different types of beat combos. You can change the speed , the tempo , the pitch of your creation.
You can play Musical instrument like Piano , Guitar and Violin. We can set various types of music notes to play. you can get a mini keyboard to play these instruments.You can listen each track individually.
We can add these instrumental sounds in the beats to build a soundful beautiful music with the many combination of different tracks. Here you start or create many different baselines to follow your own creatively in the sequence and play in the sequence to get proper beat. The baseline editor is pretty easy to use.There is lots of cool things has a bunch to built-in synthesizing tools and effect so fun one to play with Linux multimedia studio.
CLICK HERE TO DOWNLOAD THIS: www.lmms.com
3. ARDOUR SOFTWARE: AN OPEN DIGITAL AUDIO WORKSTATION
Ardour is a fully featured open source digital audio workstation. Ardour is an another music creation program which is only program for the Linux. It is an audio work station and it is great for music creation and recording. Ardour is open source code so anyone can download the source code and build it . Ardour allows you to create unlimited amount of audios and MID toI tracks. You can create audio and MIDI busses. For example a reverbs or delay send bus where you can easily send varying amounts of signal from your tracks to have CPU efficient quickly added to you mix. Taking recorded tracks and piecing them together you would in a recording studio , you record the audio and then the drums and the different instruments.
we can sync together two or more guitar. You can drag different around and you can also apply a lot of different effects similar to what you can do it in audacity but it is designed for working with multiple tracks in ardour. You can produce electronic music , audiobooks and podcasts or design sound effects. It can be used to load a video file to use as a guide.
CLICK HERE TO DOWNLOAD THIS: www.ardour.org
4. FL STUDIO FREE MUSIC CREATION SOFTWARE BEGINNERS
FL studio or a fruity loops is very best software for the beginners. A lot of people starts creation of music and making beats using FL studio. It really very easy to use and you don't have to like watch tuitorials because it has like a step sequencer where you can just fill in the little squares. You can just create a drum patterns , so it's probably the easiest software to use. You will also got the piano rolls which is also wonderful.

You can write down your notes whatever you to do. The most important feature so far has to do with the PDC system. PDC system or APDC as it's called stands for automatic plugin delay compensation. This system is working in the background and make sure that all your sounds stay synchronized. So Must use this one , now move to the next last music creation software.
CLICK HERE TO DOWNLOAD THIS: www.image-line.com
5. MIXXX DJ MUSIC CREATION SOFTWARE
Mix is a DJ mixing tool and you can use it for live broadcasting or for dances , clubs and in parties and many more. It helps you to mix all the different earlier songs or any different songs and music libraries. You will see there is turntable control and you can do all of that crazy shuffling and scratching in the songs.

You can do loops different bits of the song to your content. This application software is works on windows , Mac and Linux but on Linux you need to point it to a specific folder for audio codecs. The nice thing is that they do have lots of different interfaces you can choose from it. This application is very fast and it doesn't show any kind of lag. It also not bad as an auto DJ in that you can just playlist of songs. If you can have a playlist of songs so they are ready to go for a party or whatever. It very cleverly picks out the songs that go well together in the mix smoothly into each other. It contains some equilizers controls for your audio output.
CLICK HERE TO DOWNLOAD THIS: www.mixxx.org